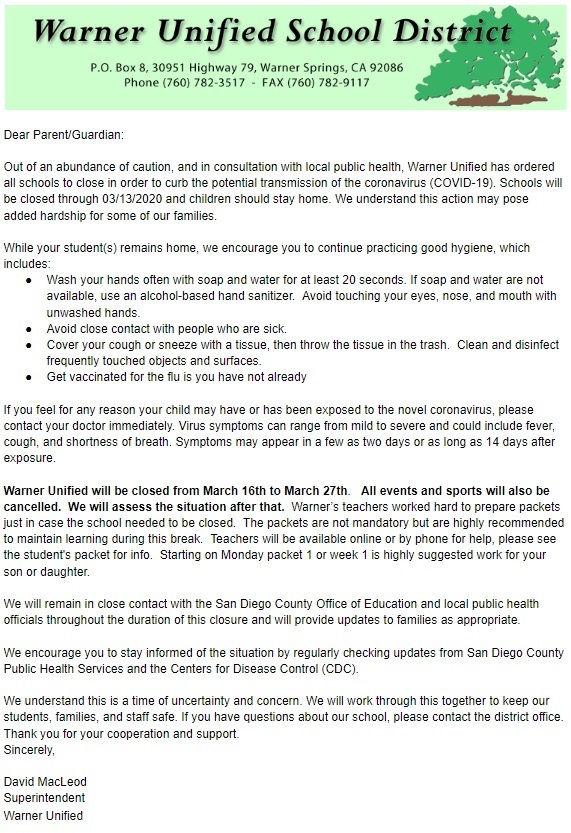 School Closure Mar 16 to 27
David MacLeod
Friday, March 13, 2020
Dear Parent/Guardian:
Out of an abundance of caution, and in consultation with local public health, Warner Unified has ordered all schools to close in order to curb the potential transmission of the coronavirus (COVID-19). Schools will be closed through 03/13/2020 and children should stay home. We understand this action may pose added hardship for some of our families.
While your student(s) remains home, we encourage you to continue practicing good hygiene, which includes:
Wash your hands often with soap and water for at least 20 seconds. If soap and water are not available, use an alcohol-based hand sanitizer. Avoid touching your eyes, nose, and mouth with unwashed hands.

Avoid close contact with people who are sick.

Cover your cough or sneeze with a tissue, then throw the tissue in the trash. Clean and disinfect frequently touched objects and surfaces.

Get vaccinated for the flu is you have not already
If you feel for any reason your child may have or has been exposed to the novel coronavirus, please contact your doctor immediately. Virus symptoms can range from mild to severe and could include fever, cough, and shortness of breath. Symptoms may appear in a few as two days or as long as 14 days after exposure.
Warner Unified will be closed from March 16th to March 27th. All events and sports will also be cancelled. We will assess the situation after that. Warner's teachers worked hard to prepare packets just in case the school needed to be closed. The packets are not mandatory but are highly recommended to maintain learning during this break. Teachers will be available online or by phone for help, please see the student's packet for info. Starting on Monday packet 1 or week 1 is highly suggested work for your son or daughter.
We will remain in close contact with the San Diego County Office of Education and local public health officials throughout the duration of this closure and will provide updates to families as appropriate.
We encourage you to stay informed of the situation by regularly checking updates from San Diego County Public Health Services and the Centers for Disease Control (CDC).
We understand this is a time of uncertainty and concern. We will work through this together to keep our students, families, and staff safe. If you have questions about our school, please contact the district office. Thank you for your cooperation and support.
Sincerely,
David MacLeod
Superintendent
Warner Unified
Estimado Padre/Tutor:
Como medida de mayor precaución, y consultando con los oficiales de salud pública, el distrito Warner Unified ha dado la orden de cerrar [todas] las escuelas para contener la posible transmisión del coronavirus (COVID-19). Las escuelas se cierran hasta el March 27th de y todos los niños deben permanecer en casa.
Comprendemos que esta medida puede provocar dificultades adicionales para algunas de nuestras familias.
Mientras que su(s) estudiante(s) permanecen en casa, los alentamos a que sigan teniendo buenos hábitos de higiene, incluyendo:
Lavarse las manos con agua y jabón durante por lo menos 20 segundos. Si no hay jabón disponible, usar un desinfectante de manos a base de alcohol.

Evitar tocarse los ojos, nariz, y boca con las manos sucias sin lavar.

Evitar contacto cercano con personas enfermas.

Cubrir su nariz y boca con un pañuelo desechable al toser o estornudar, y tirar el pañuelo a la basura.

Lavar y desinfectar los objetos y superficies de contacto frecuente.

Vacunarse contra la influenza si aún no lo ha hecho.
Si usted cree que por cualquier razón su hijo(a) ha sido o pudo haber sido expuesto(a) al coronavirus, favor de ponerse en contacto inmediatamente con su médico. Los síntomas del virus pueden ser desde muy leves hasta severos e incluyen fiebre, tos, y dificultad al respirar. Pueden aparecer a los dos días o hasta 14 días después de haber sido expuesto al virus.
Warner Unified estará cerrado del 16 al 27 de marzo. Todos los eventos y deportes también serán cancelados. Evaluaremos la situación después de eso. Los maestros de Warner trabajaron duro para preparar paquetes en caso de que la escuela tuviera que cerrarse. Los paquetes no son obligatorios, pero son muy recomendables para mantener el aprendizaje durante este descanso. Los maestros estarán disponibles en línea o por teléfono para obtener ayuda, consulte el paquete del estudiante para obtener información. A partir del lunes, el paquete 1 o la semana 1 es un trabajo altamente sugerido para su hijo o hija.
Nos mantendremos en contacto cercano con la Oficina de Educación del Condado de San Diego y los oficiales locales de salud pública durante el transcurso de este cierre de escuelas y mandaremos información actualizada a las familias conforme sea apropiado.
Lo alentamos a que se mantenga informado sobre esta situación, revisando de manera regular las actualizaciones expedidas por Los Servicios de Salud Pública del Condado de San Diego y los Centros para el Control y la Prevención de Enfermedades (CDC).
Comprendemos que este es un momento de incertidumbre y preocupación. Trabajaremos juntos para superar esto y mantener seguros a nuestros estudiantes, familias, y personal. Si tiene preguntas acerca de la escuela, contacte a oficina de distrito. Muchas gracias por su apoyo y cooperación.
Atentamente,
David MacLeod