Thanks Dr. Dan for speaking about your previous career as a Podiatrist! Middle school students have been researching different careers they might want to pursue in our life skills class!
Today was parent eat with your child day! We had some fun and everyone ate pizza!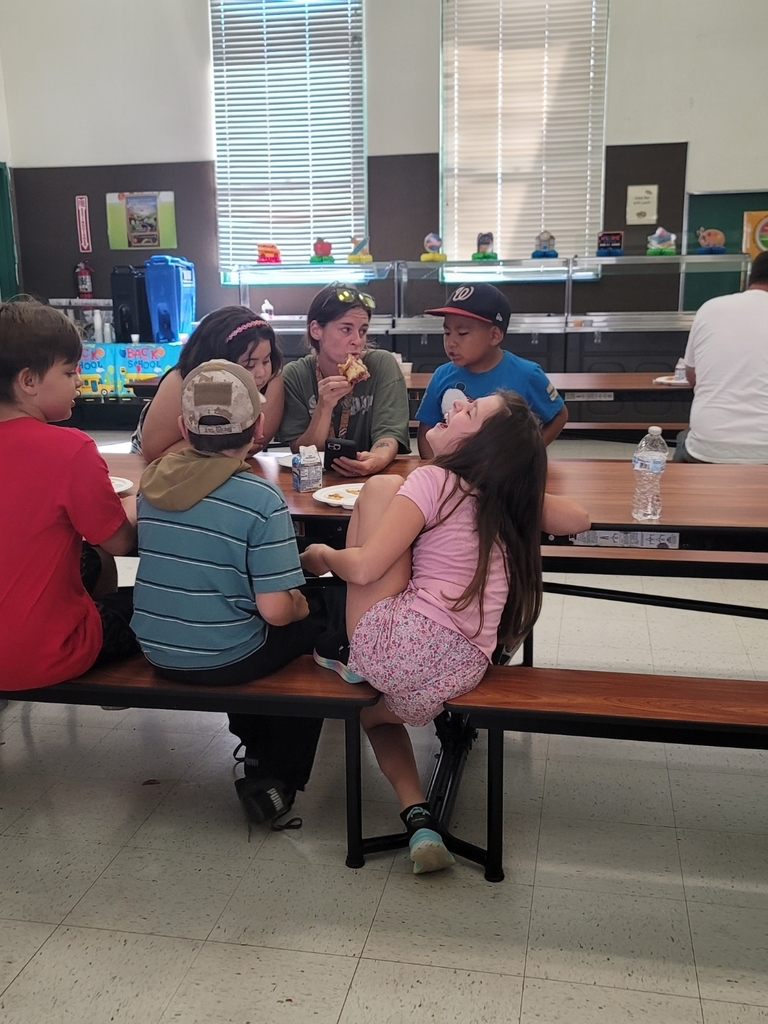 Warner Families, please buy raffle tickets to win and support our 6 Graders who would like to go to Astro Camp. Winner will be announced tomorrow night at the end of Back to School Night. This Labor Day Weekend Treat Basket has a value of $125 and includes a $50 Amazon Gift Card. Buy your tickets at the front desk or at Back to School Night. 1 ticket for $1, 12 tickets for $10 or 25 tickets for $20. Good Luck and thanks for supporting our 6 Graders.
Here are some photos from this week's Minute To Win It Tournament. Please join us this Thursday for Warner's Back to School Night and sign up for some of our After School Program Clubs.
Back to school night!!
Warner's After School Students participated in a Dessert Contest yesterday- the first of many competitions this coming year. Great desserts and great presentations! The scores were super close! The Zoinker Team won first place. Thank you to the judges. Congrats to all!
Warner Families! Our internet is still out, phones are still down. AT&T and SDCounty Office of Education are working on it. Please reach out to us in the office at at 760-419-8181 if you need to reach the office or contact your student's teachers by Class Dojo if they have it.
Welcome to all our wonderful Warner Staff. It's going to be great year!
Baking Pizza in After School!
Lastly, a send off with a toast and a cheer to a beautiful Warner Family! Please take care of yourselves and enjoy your summer break. :)
A beautiful and heart-felt graduation ceremony last night. Thank you for all the touching speeches and for reminding us that once you are part of this Warner family, you are FOREVER part of this Warner Family! We will miss everyone that is moving on. Congrats to the Class of 2023! We love you all very much!!!
Middle school end of the year water balloon fight!!
Warner's High School Theater Class did an amazing job performing "The Rough-Face Girl" this week. Congratulations to Teacher Stacy Hodo and all her students!
Warner Middle Schools present their erupting volcanoes
Warner elementary students are published authors! If you ordered a book it is going home today. If you'd like to order one, it's not too late. Please contact your student's teacher for more information.
Today TK2Rocks was able to host seniors with our Tk2/senior ice cream social to send off our friends as they start their new and exciting journey as graduates! We love out seniors!!!
6th grade was treated to a pizza party from Mamma Ramona's Pizzeria in Ramona. We made awesome thank you cards that were hung up in their restaurant. Thank you for our pizza! We ate our pizza quickly, so we didn't get many photos.
5th and 6th grade students teamed together to engineer balloon powered bottle cars as well as make mini golf courses out of cardboard during our STEM sessions. Way to go! It sure was a lot of fun.
Thank you to everyone that came to our Family Lunch Day!
Family Day Lunch was lots of fun!